Teenburger - Burgertime-So Hungover(sean connery)(Droppin' Science)
Evidence - Cats and Dogs-The
Liner Notes (Rhymesayers)
Strong Arm Steady - In Search of Stony Jackson - Get Started(Stones Throw)
Hypnotic Brass Ensemble - Bulletproof Brass - Black Boy (self released)
SWCK - Unicorn Chasers - A P
lane in the Clouds (Atavistic)
Tasseomancy - Ulalume - Heavy Sleep (Out of this spark)
Village of Spaces - Alchemy of Trust - Mountainside(Corleone)
We recently received Five Split 7" releases on The Kakutopia imprint.
which was established in 1998 by a
a collective of musicians involved
with the total-improv pop/rock outfit Radioactive Sparro
w. The label
Wormhole - pink saliva/wormhole - Untitled (Rumple) (Kakutopia)
Socco Chico ft. daddy Killa -
Socco Chico/Nat Roe Split - Oesko Killa(Kakutopia)
Pink Saliva -pink saliva/wormhole - Smolder (Kakutopia)
Nat Roe - Socco Chico/Nat Roe Split - Will You Do What I Ask You (Kakutopia)
Will Schrimshaw - Will Schrimshaw/Sound of Airc
raft Attacking Britain Split - Sediment (Kakutopia)
GD - GD/THF Drenching Split - O_o
(Kakutopia)
Sound of Aircraft Attacking Britain -
Will Schrimshaw/Sound of Aircraft Attacking Britain Split - Ghost Battalion (Kakutopia)
THF Drenching -
GD/THF Drenching Split - the 10 blows (Kakutopia)
Yamantaka Sonic Titan - s/t - A Star O
ver Pure Land (Psychic Handshake)
Here's the thing -
KDVS
is a radio Station that operates at 90.3FM in
Sacramento, CA
for the past 40 years! they are like CKUT's big sister,
running a free-form
campus based community station at UC Davis.
But here's the punch... they run a fracken Record Label!!!
- i'm floored and very jealous.
To their knowledge they are unique in their kind
- a University Funded non-profit
Record Label that came to light
in 2006. On top of running the label that records, produces and
packages some sweet sweet sounds, they have this great
of Local and outsider music delivered to you on a monthly basis.
Two artists featured on todays new shit came to us through
KVDS this week - Daniel Trudeau's Pregnant
and a double LP by Art Lessing (Dan Quilling) .
Tim Hecker -Dropped Pianos - Sketch 7(Kranky)
Art Lessing - Lectures - Weirdest Places (An Electric Eggplant Recording)
i am still
trying to wrap my head around this double LP
release - a compilation of
works written and produced over
Here is a bit about Quillen as taken from KDVS's site:
A decade's worth of selections from the career of hometaper/visual artist
Dan Quillen. Based out of Sacramento, this release qualifies some 24
releases Quillen's performed on in the past decade, and a symbiotic
relationship having formed between him and local freeform college
radio station KDVS. Certainly the world wasn't getting access to
Art Lessing's dozen or so full-lengths and collaborations, and the
case could be made that he was making all of this music specifically
for airplay on the radio, with an ulterior motive of casting any listeners
within his grasp within a very specific moodspace of his own creation.
The project shifts between lo-fi basement riff rockin' and more placid
escapes, headtrips blaring back from the histor
y of weird/out there
music being reflected onto pockets of Northern California in some
sort of perpetual motion device of media influence and … my god
this guy is a super villain (and he draws like Vaughn Bode but with a
much thinner point). Get lost in the psychedelic marshes of one si
nister
man's mind. It's a pretty mellow trip, orange sunshine all around.
500 copies, comes with a hand-stitched lyric booklet and sketchpad,
containing loads of Quillen's alternate
universe scribbles. --- Doug Mosurock
Feral Children - feral children - Brand New Wave (se
lf released)
Heading out on a US tour kicking shit off in Brooklyn at
Death By Audio on the 20th
of October 2011 -
is crucial
listening -Tour Dates
HERE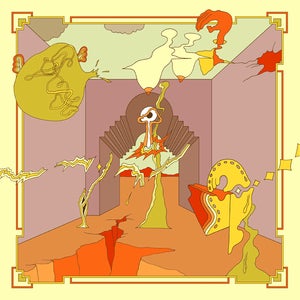 AIDS Wolf - Ma Vie Banale Avant-Garde -Volunteer Decoys (Lovepump United)